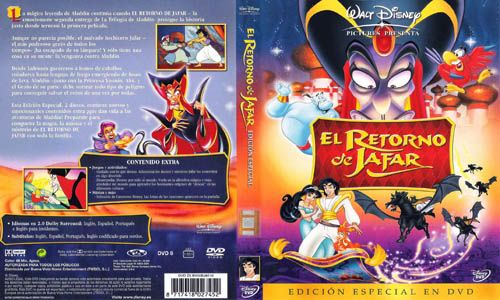 Titulo Original:
Aladdin 2: The Return of Jafar
Titulo Otros:
Aladdin 2: El Retorno De Jafar
Director:
Toby Shelton, Tad Stones, Alan Zaslove
Guion:
Kevin Campbell, Mirith J. Colao, Bill Motz, Steve Roberts, Dev Ross, Bob Roth, Jan Strnad, Brian Swenlin
Música:
Mark Watters & Alan Menken
Productora:
Walt Disney Pictures
Género:
Animación. Aventuras. Fantástico. Infantil | Secuela
Aladdin y Jasmine viven felices en el palacio real, rodeados de lujos y de la magia del genio. Pero, muy lejos de allí, algo se remueve en las arenas del desierto: Yago, el loro dentudo de Jafar, ha logrado escapar de la lámpara que los mantenía presos a ambos. Tras traicionar a su amo, Yago decide vivir una nueva vida en donde él es el jefe. Pero Jafar esconde más de un as en la manga...
Pass: www.arcanusmoviesdvdrfull.blogspot.com

Resolución:
720x480 (16:9)
Subtitulo:
Ingles / Latino