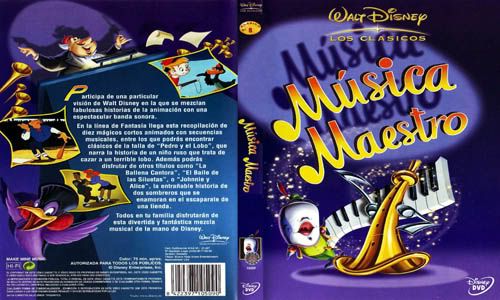 http://b77a45d8.linkbucks.com
http://407d8f71.linkbucks.com
http://ee0b9df0.linkbucks.com
http://5261fd27.linkbucks.com
http://7a2c93b5.linkbucks.com
http://45c3e7b1.linkbucks.com
Titulo Original:
Make Mine Music
Titulo Otros:
Música Maestro
Director:
Jack Kinney, Clyde Geronimi, Hamilton Luske,
Joshua Meador, Robert Cormack
Guion:
James Bordrero, Homer Brightman, Erwin Graham, Eric Gurney,
T. Hee, Sylvia Holland, Dick Huemer, Dick Kelsey, Jesse Marsh
Productora:
Walt Disney Pictures
Género:
Animación. Musical. Infantil | Película de episodios
Antología musical animada compuesta por 10 fragmentos: 'The Martins and the Coys', 'Blue Bayou', 'All the Cats Join In', 'Without You', 'Casey At the Bat', 'Two Silhouettes', 'Peter and the Wolf', 'After You've Gone', 'Johnny Fedora and Alice Blue Bonnett', 'The Whale Who Wanted To Sing At the Met'.
Premios:
1946: Festival de Cannes: Mejor animación
Pass: www.arcanusmoviesdvdrfull.blogspot.com

Resolución:
720x480 (4:3)
Dificultad: