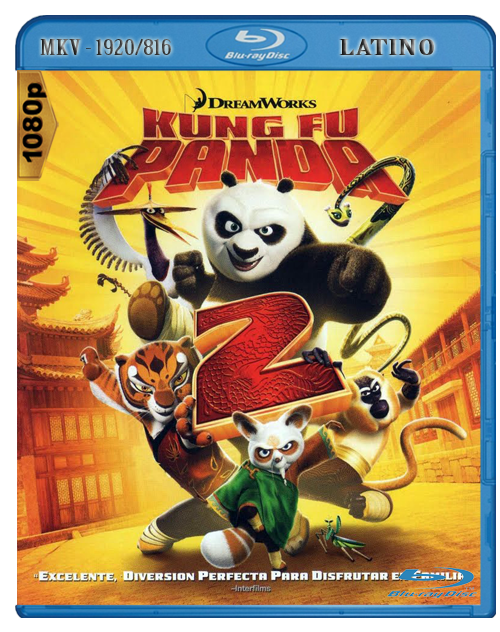 Kung Fu Panda 2
BDRIP | MKV | 1080p | 1.53 GB | 1920x816 | Audio: Latino | 93 min |

Titulo Original:
Kung Fu Panda 2 (Kung Fu Panda: The Kaboom of Doom)
Titulo Otros:
Kung Fu Panda 2
Guion:
Jonathan Aibel, Glenn Berger
Música:
John Powell, Hans Zimmer
Productora:
DreamWorks Animation
Género:
Animación. Comedia. Acción | Artes marciales. Secuela
Secuela de la exitosa producción Kung Fu Panda. La historia vuelve a recuperar el personaje de Po, que ahora vive su sueño como guerrero dragón protegiendo el valle de la paz junto a sus amigos los cinco furiosos. Pero Po será amenazado por un nuevo villano, que planea usar una imparable arma secreta para conquistar China y destruir el Kung Fu. Po se enfrentará a él, pero como se puede parar un arma que puede destruir el Kung Fu. Po deberá buscar en su pasado y descubrir los secretos de su misterioso origen, solo entonces podrá encontrar la fuerza que necesita.
2011: Oscar: Nominada a Mejor largometraje de animación
2011: Premios Annie: Mejor director y diseño de producción. 12 nominaciones
2011: Critics Choice Awards: Nominada a Mejor película de animación
2011: Satellite Awards: Nominada a Mejor película de animación o mezcla de técnicas
Pass: www.arcanusmoviesdvdrfull.blogspot.com

Resolución:
720x480 (16:9)
Subtitulo:
Ingles / Latino