http://0b8eb1af.linkbucks.com
http://f7a9f548.linkbucks.com
http://bebca30e.linkbucks.com
http://2dfb28c4.linkbucks.com
Titulo Original:
Tom And Jerry: The Magic Ring
Titulo Otros:
Tom Y Jerry: Y El Anillo Magico
Director:
James T. Walker
Guion:
Tim Cahill, Julie McNally Cahill (Personajes: William Hanna, Joseph Barbera)
Productora:
Turner Entertainment / Warner Bros.
Pictures
Género:
Animación. Comedia. Fantástico. Infantil
Habiéndole encargado la custodiadle anillo mágico su joven maestro hechicero, Tom queda horrorizado cuando el anillo se queda enganchado en la cabeza de Jerry y el pequeño ratón se va a la ciudad. Antes de que puedas decir "abracadabra", el pueblo entero ya estará persiguiendo a nuestros héroes. El anillo del hechicero está derramando un torrente de magia maléfica y Tom y Jerry están metidos hasta el fondo en ella...
Pass: www.arcanusmoviesdvdrfull.blogspot.com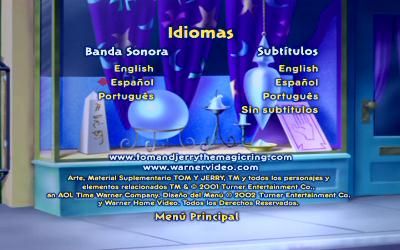 Resolución:
720x480 (16:9)
Audio:
Ingles / Latino / Portugués
Subtitulo:
Ingles / Latino / Portugués
Dificultad: